May 20, 2020

More than Money: How Chris Scoville of Eastern Bank is helping non profits through Covid-19

Christopher Scoville is the Senior Vice President of Community Development Lending at Eastern Bank. Through Chris' work, community-based organizations that provide services like senior care, housing development/construction, and education have access to banking services and financing for delivery of their non profit missions. Since 2011, Chris has worked with HBI to finance projects like the Alvah Kittredge House, the Hayden Building, and the Fowler Clark Epstein Farm.  Chris is also chair of the Board of the Boston Preservation Alliance and is a board member of Homeowners Rehab Inc. Read our interview below to learn how community development lending works from expert and preservation enthusiast, Chris Scoville. 

What is your role at Eastern Bank? How does community lending differ from traditional lending?

"I am the face of the bank to my clients, who run the gambit — charter schools, social service providers, non-profits, senior care services, community development corporations — really anything that doesn't fall in the traditional realm of banking. My clients' organizations all have a mission or social service/purpose. These are organizations that are really making a difference around Boston.

In my position, I advocate for the customers to the management and credit committee (the body that approves loans). In managing the relationship with clients and the bank, I make sure that they are getting the best service we can provide while maintaining an acceptable risk profile."

How has your work changed during COVID-19? 

"It changed profoundly at the beginning. I had no idea what was going on, and we all were worried about the severity of the situation. There were a few days where, during the course of the day, you could see things changing so drastically. I had no idea what my work was going to look like. I started thinking, "How are my customers?", and "Where does their money come from?", "What are the worst-case scenarios?" 

We can see that low-income communities are disproportionally impacted. Residents of our affordable housing communities have obstacles to paying rent, and building owners can't pay the mortgage. It is my job to create a safe space for my customers to express their difficulties and for me to listen and come up with a way to solve it. As a bank, we have access to money and products that can give these organizations and residents a fighting chance. 

When it started to settle a little bit, the biggest change was realizing that my customers' needs had changed completely overnight: from growth and opportunities to survival mode. Three months ago, we were looking at acquisitions and letters of interest. In the span of a couple weeks, we were no longer worrying about financing construction, we were just looking at helping organizations and companies keep staff by applying for PPP loans. I have about 35 clients, and I went through every one of them to ask what they are thinking and how we could help. At the end of the day, the most important step was letting them know, I am here and I am ready to talk and work to problem-solve."
You've been with Eastern Bank for over a decade. What has kept you in the position for so long?
"Our small scale allows us to have a personal touch. From the CEO to our newest employees, we know our customers and we care about them. We advocate for them. That is a cultural touchstone for Eastern Bank. I believe that can exist anywhere with the right management. I sit next to the commercial real estate department, and I know I can trust that my colleagues will treat my referral client well when their needs fall outside my normal realm. It reflects well on all of us to subscribe to that level of care. With longevity and consistency, our customers know that we'll be around.
The first question has always been "how do we stem the impacts on our communities?" Our priorities are our customers, communities, and employees. I think that is not just Eastern. Most smaller banks around Boston have taken the view. It made me proud to be part of the solution. Historically, banks have created a lot of the inequity in some communities, and to see the opposite happen through all this has been so energizing. That speaks to Bob River's leadership; he's genuinely concerned about the community and the ability of the bank to help mitigate the crisis. He made it clear that the work that we are doing has  to be meaningful. The call to action came from him and has rallied Eastern's  employees on all levels. 
I've seen customers through the 2008 recession, and they know that I will be there to work with them through this one. People just want to know that their bank is there for them — somebody listening to them and someone to talk to and someone who has their back. The US banking scene is dominated by these giant banks, but people really  want to know that there is someone there to pick up the phone and work for them. It makes a difference. And it is not hard to do. "
What has surprised you the most through the last two months of shelter-in-place?
"I have been pleasantly surprised by everyone's patience and their willingness to be open about the challenges that they are facing to their bank, andI have been encouraged by their willingness to be vulnerable. Everyone wanted answers right away, but they were understanding of the pressure we were under. 
I have been able to have meaningful interactions with customers even though we are not face-to-face. I think the quality of communication has not diminished. It has been enhanced by the lack of distractions, and long term that is encouraging. There is a personal touch that can be applied even when you're not in person."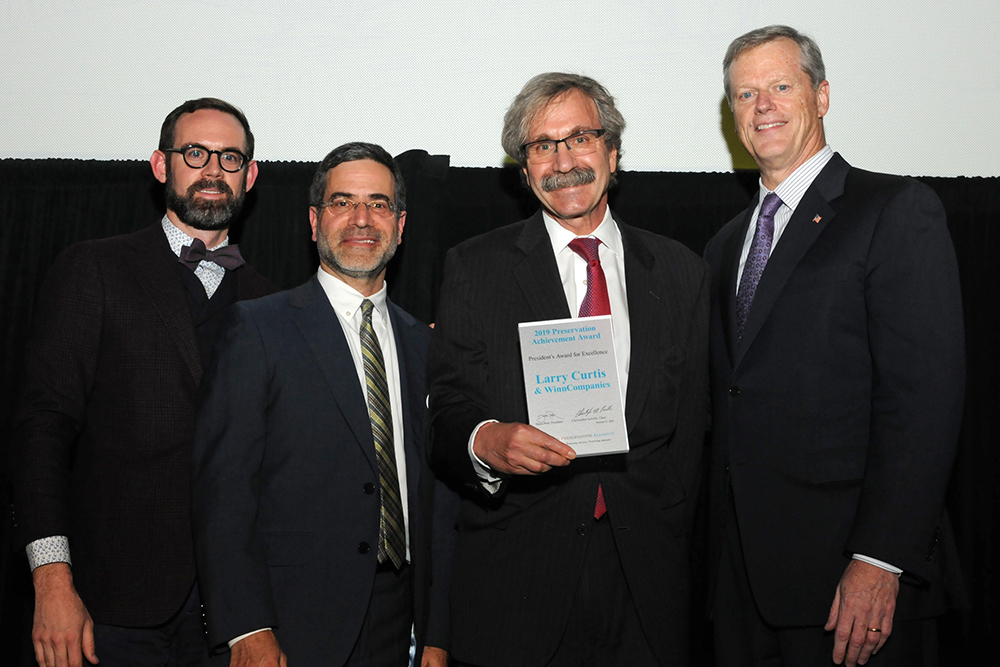 How did you start working in the preservation world with HBI and BPA? Do you have any proudest moments/biggest triumphs that have come for your work with your preservation organizations? 
"I had always been interested in history, architecture, and preservation, and I had been working on the Presentation School in Oak Square. A small non-profit was buying and gutting it for community space. They ran into some issues with the Massachusetts Historical Commission and someone suggested they consult HBI. I was introduced to Kathy (Kottaridis) and we hit it off. We placed the line of credit on the Old Corner Bookstore for HBI, then financed the Hayden Building, the Kittredge House, and Fowler Clark Farm. It was a happenstance introduction, but it was a meeting of my interest in historic places and sites and it led me to seek more of that. From there, I met the staff at BPA.
I've been HBI's relationship manager since 2011.To see the outcome of the Kittredge House is really special, because for many of HBI's  projects like it, there is no economic reason to save  that building. No for-profit developer would ever take that one on. It was a small loan for us too. To have a part in that and to see the transformation that a public private partnership could make was inspiring. Kittredge stands out to me, because I saw the before and after. That project transformed the whole public realm in that part of Fort Hill and catalyzed development, but kept the unit price low. HBI's painstaking attention to detail inspires others to carry out that vision for other challenging projects.
I have worked on the mills in Lawrence, and Lowell committee health center. They were a small health center in downtown Lowell. They got allocations for historic tax credits and they bought 100,000 square feet and they completely transformed it from an abandoned brick mill and broken windows and empty canals and now it a centerpiece in Lowell and it one of the larger employers in Lowell. The intersection of affordable housing and preservation has become a passion for me. I love to see when we can do both: restore historic buildings that can serve a lower income community. When preservation and affordable housing can happen in tandem I love to see that."
What do you see as the biggest challenge during the COVID-19 pandemic for small businesses and nonprofits?
"The biggest challenges have been the loss or reduction of funding sources that drive their missions, because most don't have self-sustaining sources of revenue, especially those who depend on philanthropic and state/city funding. We are seeing  organizations that don't have cash on their balance sheets to carry them through, which is hard during a time when people need these services more than ever. 
I don't like that I can go to Target and get everything that I need, but the local bookshop is closed. I don't think it's fair. Why should people be able to congregate in a Target, but the local bookstore/shoe store is shut out of business? That is inequity, and it especially affects lower income communities where there is a preponderance of small markets and small businesses that don't have an investor base or access to capital that larger companies have. The scales are always in favor of big box businesses and COVID-19 has exacerbated the issue. Main street businesses weren't  deemed essential and they are suffering for that. 
In a more positive light, I have seen coordination and a small boom for small family farms that have been able to supply people with fresh food. Local producers of things like soaps, leather goods, jam, meat, and more have banned together to provide curbside service for essential items. It shows the importance of a connection to local food supply. The local supply chain has been able to respond in a unique way."
What are you doing to cool down/chill out during isolation? 
"My wife and I are cooking together. We're experimenting and trying new recipes, and we both look forward to creating a meal together at the end of the working day. We have the space to be more creative and are less hurried than we were before."